Read All About It! First Book on Make It Right's Work in New Orleans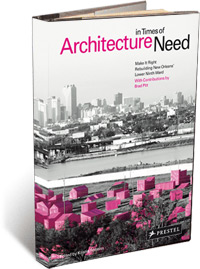 We're excited about Architecture in Times of Need, the first book to document the progress of the Make It Right Foundation's efforts to rebuild in New Orleans. Even people in the Make It Right office who are the most familiar with the green building process and the cutting-edge home designs are thumbing through the book a few times a day checking out the beautiful photos of New Orleans, infographics and maps, contributions from founder Brad Pitt and essays on the unique history, culture and geography of the Lower 9th Ward.
But the book's primary focus is on the design process and it includes floor plans for Make It Right's single family and multi-family homes, numerous photographs and renderings with sketches and informative commentary.
We all know that it shouldn't take a hurricane to make affordable, green homes available to the low income families who need them the most. We hope that this book serves as a jumping-off point for others around the world to think about sustainable building in their own communities.
Architecture in Times of Need is a great resource for anyone interested in the future of sustainable, green building and development, urban planners, architects and all those who love New Orleans.
Click here to order a discounted copy for yourself or someone on your holiday gift list. Net proceeds go to support the Make It Right Foundation.


Permalink Leave the first comment!
Comments
---