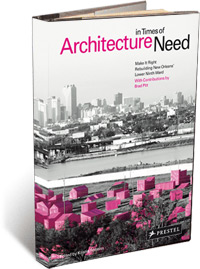 The first book to document the progress of the Make It Right Foundation' efforts to rebuild in New Orleans' Lower 9th Ward after Hurricane Katrina is now available. With contributions by founder Brad Pitt and designs for the green, affordable cutting-edge Make It Right homes. Purchase the book now on Amazon »
Make It Right was launched by actor Brad Pitt, architecture firms Graft and McDonough + Partners and Cherokee Gives Back in 2007, two years after the storm, when the neighborhood was still deserted and devastated. The founders invited a group of high-profile and influential New Orleans, national and international architects to develop affordable, green, storm resistant housing for the community, incorporating the latest in innovative and sustainable design.
This book which was sponsored and assembled by Graft, features essays on the history and people of the Lower 9th Ward, the hurricane and its impact, and tracks the development and progress of the Make It Right project. But the primary focus of the book is on the design process and designs. The contributions to the project from Adjaye Associates, GRAFT, Gehry Partners and Shigeru Ban, among others, are shown in numerous photographs and renderings with sketches, building plans, and informative commentary. The book also describes the sustainable Cradle to CradleSM approach, which seeks to maximize economic, ecological, and social value by following principles inspired by nature.
Architecture in Times of Need also makes it clear that the devastation caused by Katrina and delay in rebuilding created an opportunity and demand for innovation. The Make It Right designs for green affordable homes were created for New Orleans. Lower 9th Ward, but they could be replicated around the world. At a time when energy costs are too high, supplies are uncertain and concern about climate change is mounting, these homes offer the kind of practical, accessible design and technological solutions communities around the globe are demanding.